If Nene Leakes and RuPaul were to have a Caribbean love child – her name would be Takiyah. Nothing gives me more joy than playing the dozens. I wish I could give an example but it doesn't work like that for me. I am somewhat of a trampoline where the information comes to my mind and I fire some rude or sarcastic shit back within five seconds or less. Sometimes I even sit back and admire a quip after I type it to my friends – I am funny as hell, if I do say so myself.

However, since I've begun this journey of self-discovery through my writing, I have realised the power of my words. People listen to me. They agree with my ideas and sometimes even adopt them as their own. Nene and Ru have made their millions almost solely on the backs of their shade throwing tenacity but I don't think my road to fame and fortune will be the same.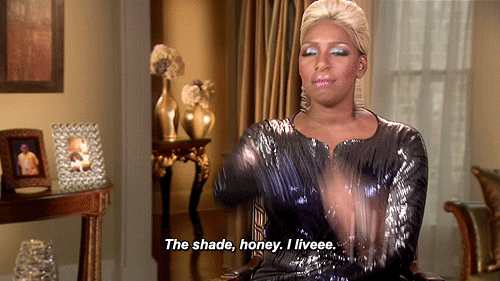 Wearing another person down for pure entertainment can't be my legacy. Words are definitely my gift and to whom much is given, much is expected. The irony of doing this while I strive to build a social media presence and open myself up to trolls is surely not lost on me.
What I am really saying is that I am going to trade clap backs for compliments for a while. The only exception is Donald Trump. For him, there will always be shade.